IMYJOY
Lucky lotto ping pong ball sweepstakes online lottery accesorys drawing lotterie machine
Lucky lotto ping pong ball sweepstakes online lottery accesorys drawing lotterie machine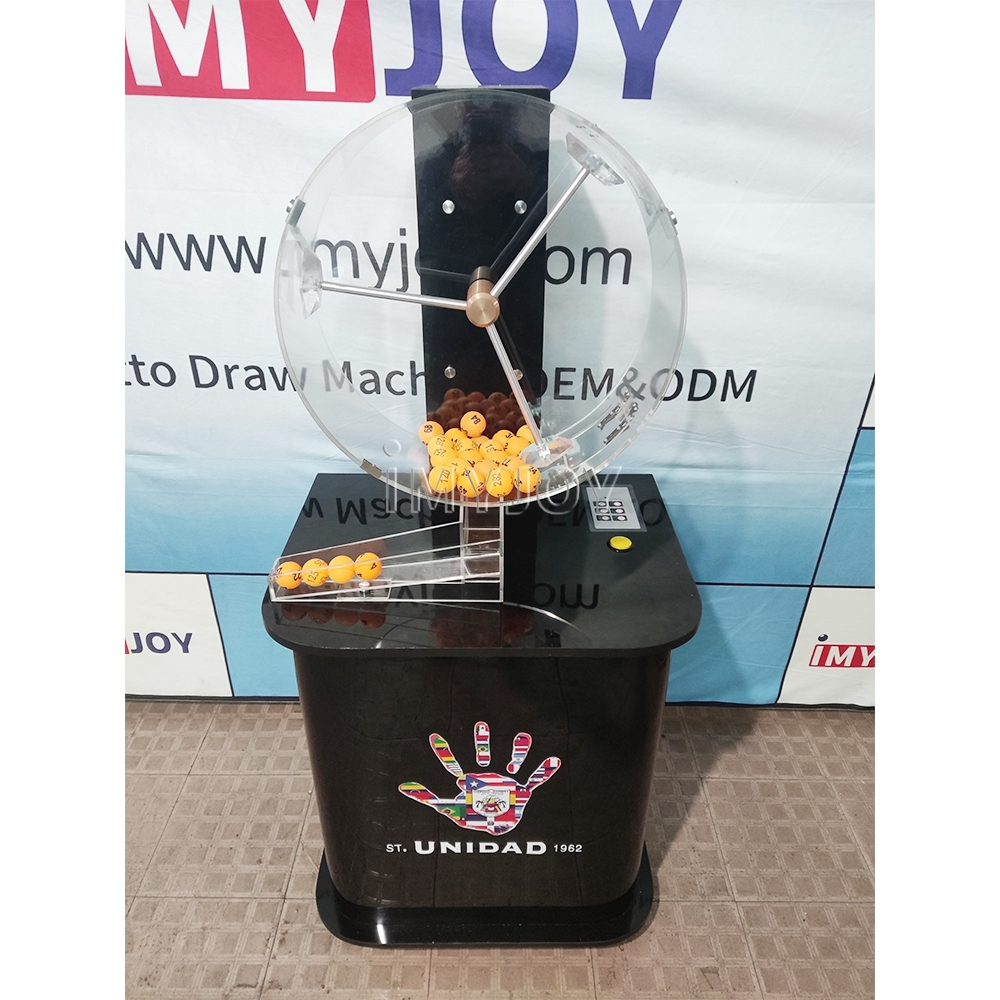 Competition Lottery Machine are the most popular. It is interesting to watch how the numbers are selected. The draw with a mechanical lottery machine is more transparent. The players can see exactly how the mechanism is working and watch how the balls come out of the lottery ball machine. The players can see the lottery balls all the time during the draw.
A popular type of mechanical machine is the "gravity pick" machine. This machine has a drum with arms rotating inside the drum. The balls go to the drum from the balls container. The drum has a hole, and when the gravity pushes the ball with the lottery number to the hole, a ball goes to the special tray for the winning numbers.
The mechanical mix lottery or bingo machine is special designed for the Lottery Bet,Bid, Auction, Games Room, or other profession area, like celebrate in factory and company, estate and other lottery activities which will surely help you to gather many people....
Products details
| | |
| --- | --- |
| Product Name | Ball drawing lottery machine |
| Model | IMY-500 |
| Size | 66*51*143cm |
| Weight | 50KG |
| Capacity | 300 pcs balls |
| Power | 200w |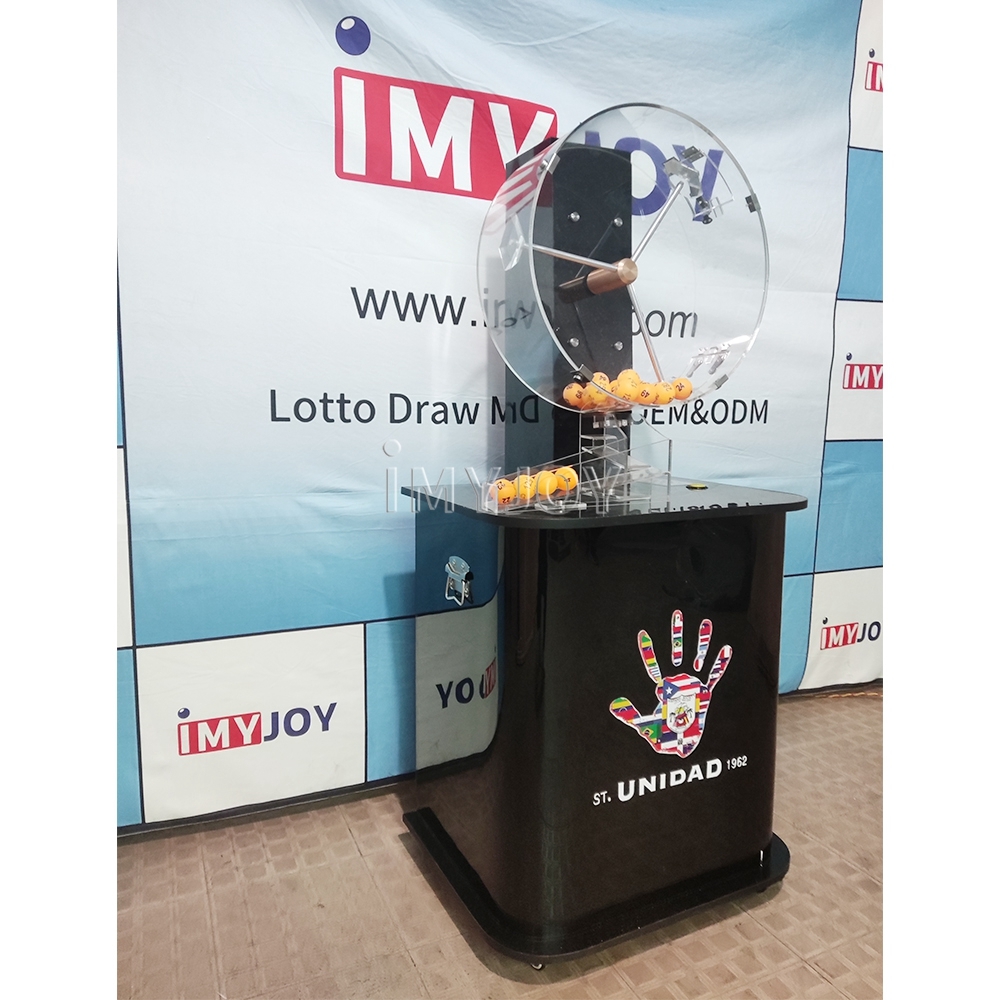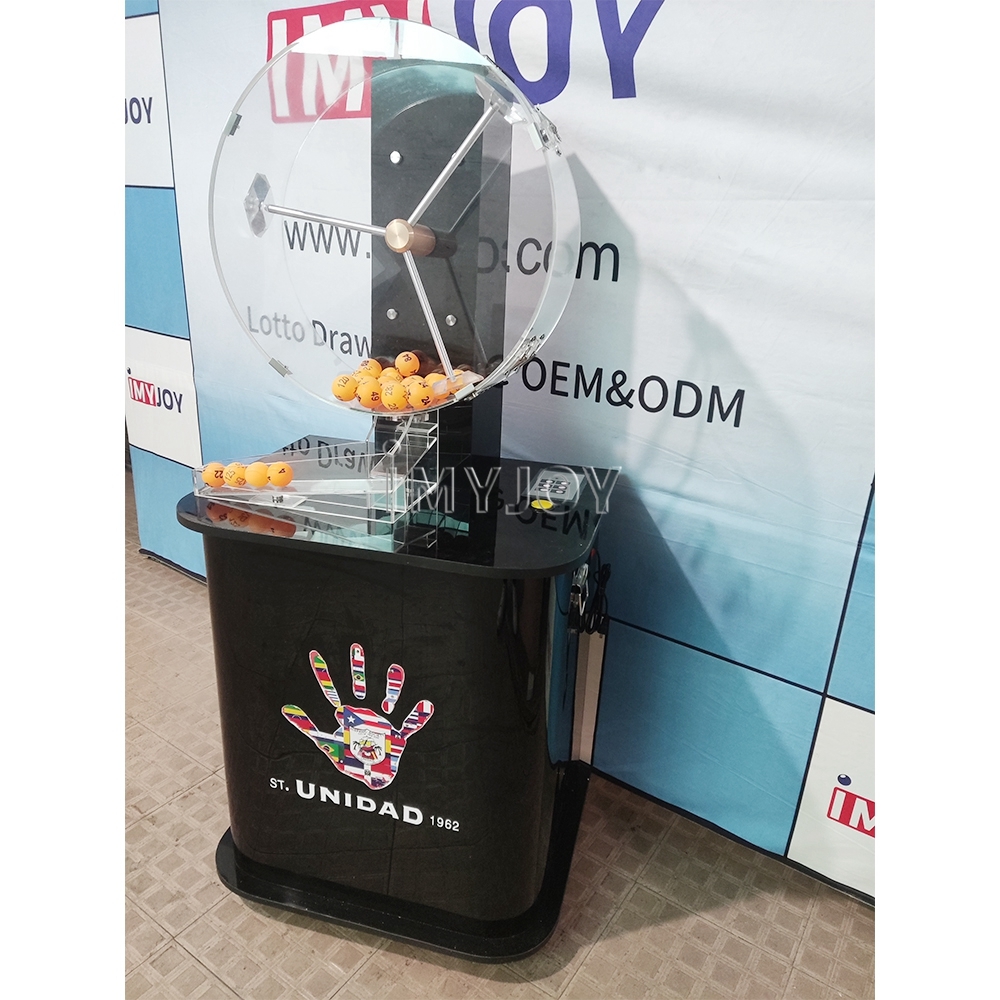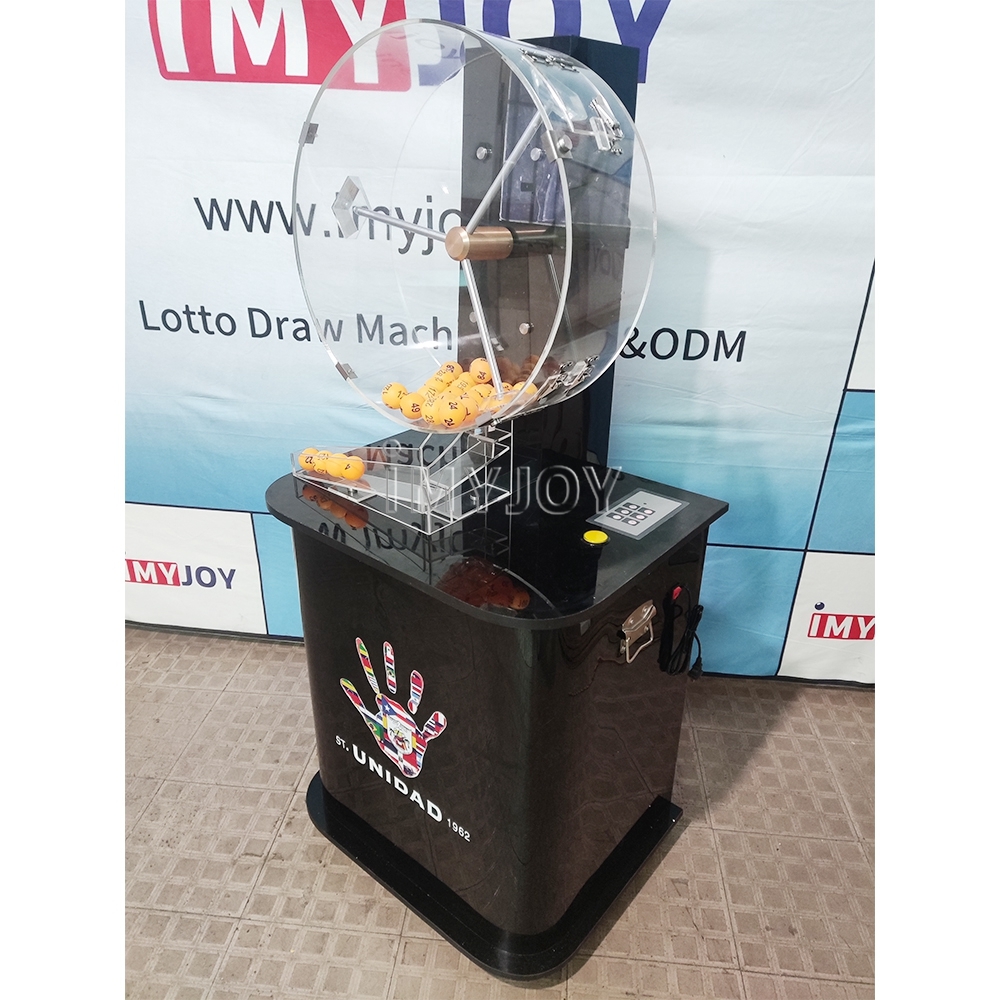 Application areas
Bid, Auction, Games Room, Lottery Bet and all other profession, such like celebrate in factory and company, estate and other lottery activities.
Customize service
IMYJOY can customize lottery machines base on your requirement, Except the machine outlook and color , we can also customize extra function for you, like logo customzie, Remote control functions, RFID functions etc.

Related Products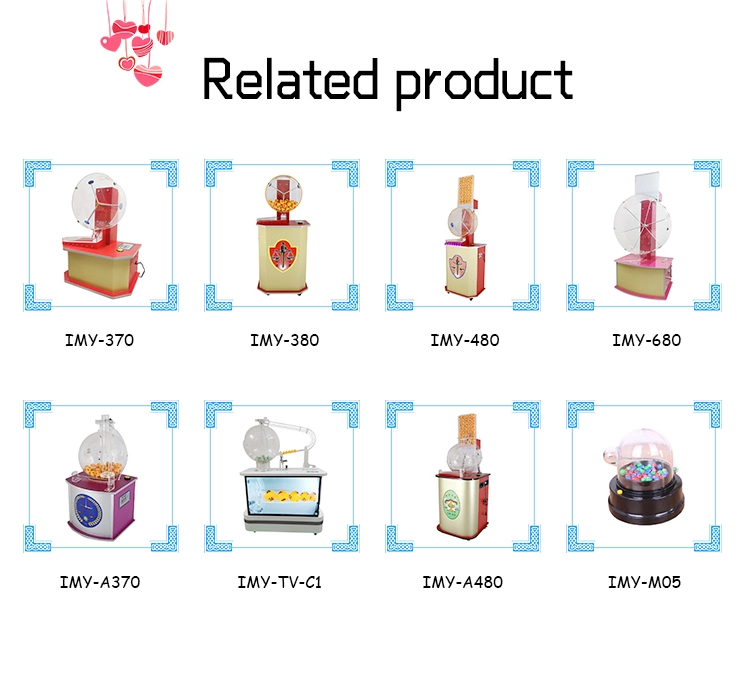 Package Safe package:
Wooden box
Payment terms:
T/T 30% deposit and 70% balance before delivery/Cash/Western Union
Leading time:
7-15 working days after receiving deposit (Mass order excluded)
After-sale service: 12 months warranty against shipping date
If you need more information about our lotto draw machine contact us
24 Hour hotline: +86 18820018779 (Ms. Suqi Su)
Email: suqi@imyjoy.com
1:How many kinds of lottery machine Imyjoy produce:
Gravity pick model(manual,semi-automatic,automatic);
air blower model;
2: How many sets can customize?
1set can customize ;
3:You machine can operate by App?
Yes, we have the App remote controller with different language;
4:How many balls Imyjoy lotto machine can operate?
From 5balls to 2000balls;
5:You have RFID function?
Yes, we can accept RFID, software and hardware accept customize.
6:What is the material of Imyjoy lucky ball?
1.Standard pingpong ball (orange/white color) is ABS material, other color that is PP material,
2.EVA foam solid ball;
7:How many sides number of the ball?
Normally,Imyjoy supply 1side, 2sides,4sides,6sides or other LOGO/other requirements customized;
8:How many balls draw out one button?
Imyjoy lotto machine have 1/2/3/4/7 or 1/2/3/4/5 number button (Press which number that mean how many balls draw out), we also can customize based on your requirement;
9:How long time one ball draw out?
Standard that is 8-10 seconds draw out per ball;
10:Can you add the TV monitor on the different machine?
Yes, can add audio/video function;
11: Are you factory?
Yes, we are lotto drawing machine manufacture, we can customize the software,color,size,hardare as your requirements;
12:How is your package?
Pack by seal wood box;
13: Can put LOGO on the machine or the ball?
Yes,put logo on the machine that is for free; put logo on the ball need extra charge;
14: How is Imyjoy lotto after service?
One year warranty; if it is damaged by non-human factors, we will provide free accessories for repair within one year.
All lotto machine are customized and do not provide return service.;
15:How to ship?
Normally ship by sea, by air, by express(Fedex, DHL etc.)
Tags: 300pcs balls uk competition lottery machine, acrylic celebration event keno machine, indoor acrylic event keno machine, indoor acrylic celebration keno machine
If you want to know more products, we have: lotto machine, lucky draw machine, rfid lotto draw machine
Ball capacity:

300pcs
Machine Type:

gravity-pick lottery machine
Usage:

Lottery Bet,Bid, Auction, Games Room, or other profession area, like celebrate in factory and company
Option function:

Remote control functions, RFID functions etc
Using time :

7*24 hours operation