IMYJOY
4 lottery drum air lottery machine lucky dip prize machine for luck draw games
4 lottery drum air lottery machine lucky dip prize machine for luck draw games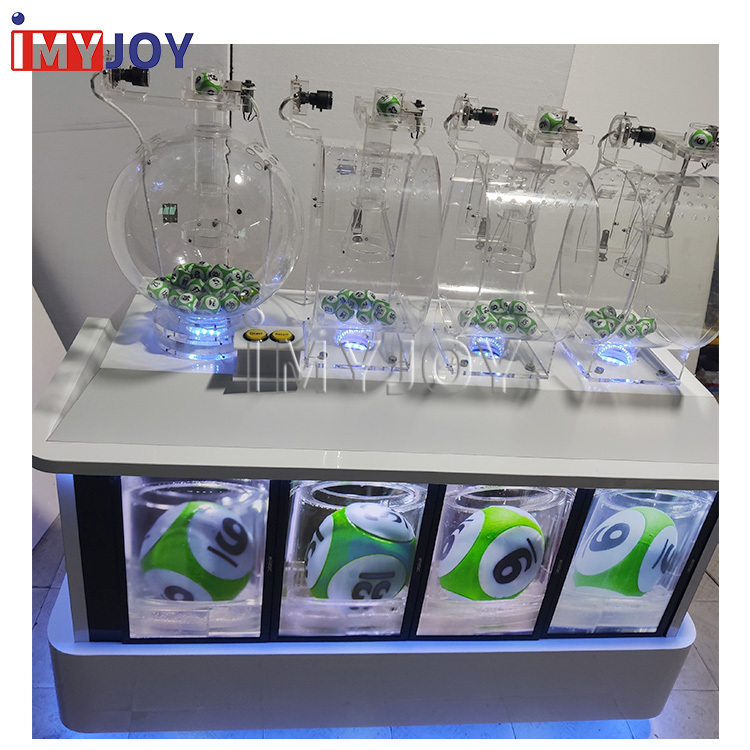 Products Details
Product Name

4TV Air Lottery Machine




Model

IMY-TV2-C4

Size

Machine size:142*53*143cm

Package size: 157*68*170cm


Weight

110KG

Capacity

Each barrel 20pcs balls

Power

450w
Do you know what's is lottery machine and how it works?
The design process of the lottery machine is based on scientific principles, and the design of the series of lottery machines is completed through repeated experiments and demonstrations. The performance characteristics of the lottery machine ensure the fairness of the lottery results. Technical level: With the continuous improvement of the technical level, from the original manual to the now fully automated lottery.
The lottery machine is divided into two types of lottery: one is agitating; the other is blowing.
These customzie 4TV lucky draw machine is air blowing type. We can put 10-20 balls inside each barrel, and the balls will come out one by one.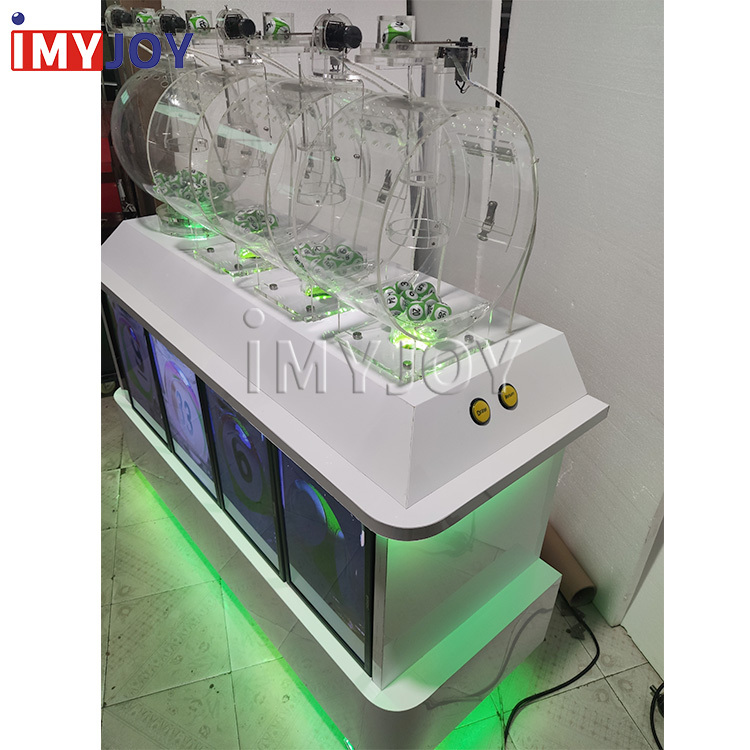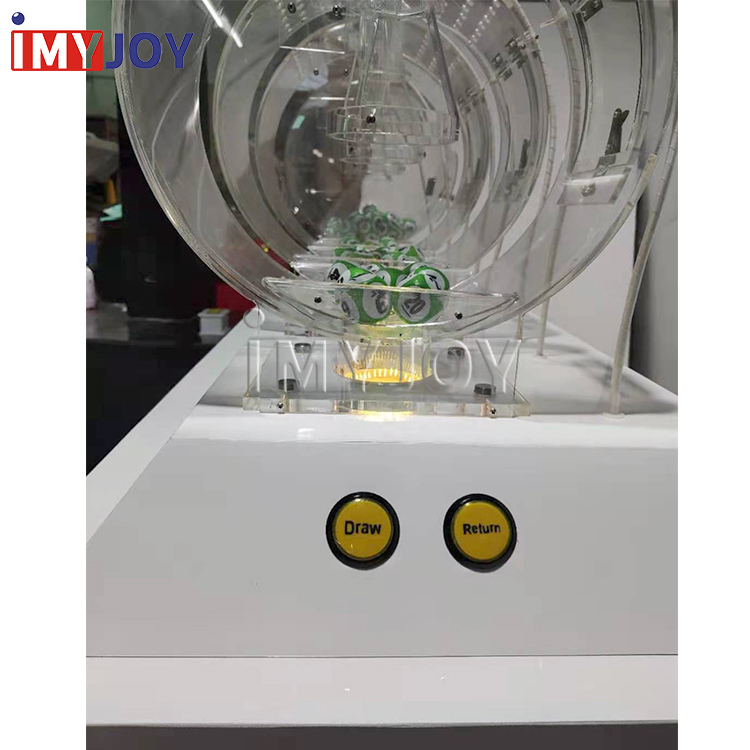 For 4TV lottery live draw machine, it can show 4 lucky number on the displayer.
For each barrel we recommend to put max 20pcs lotto balls inside. Most of our customer choose put 10 number, like 0 1 2 3 4 5 6 7 8 9 . Customer can choose balls quantity according to your games requirement.
There are two type of ball out way:
1. One-click play
On the machine only 2 button, "Draw" and "Return", so if you click Draw, 4 balls will come out at the same time.
2. Manual play
On the machine,there are 5 buttons, "1/ 2 /3 /4 / Return " ,so customer need click the button by hand on lotto draw machine. You can control which barrel ball out first, also can control the times between two balls. So it is more flexible.
If you donnot wanna stand by the machine to press button, we can take one remote, so we can control it within 30m. So that you can press the number on remote. On TV online competitive, audience may think it is work aotumatic, will have more magic.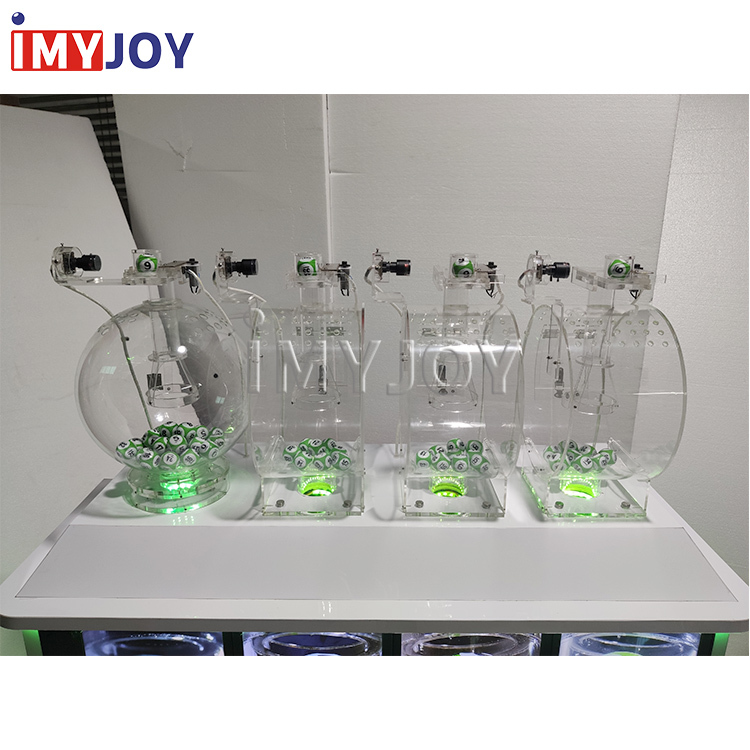 For air blowing lotto draw machine, the balls barreles also can make as below design: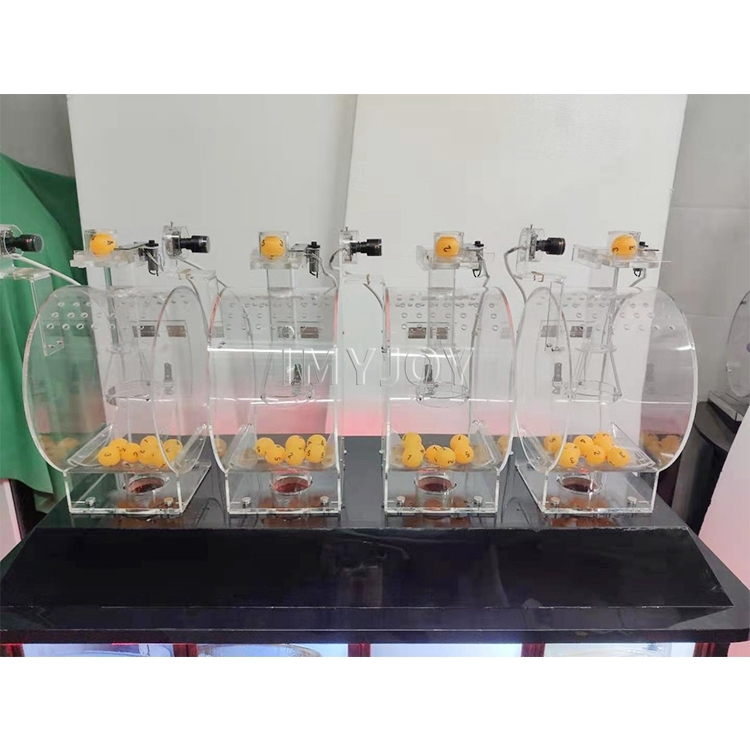 Advantage
1. No MOQ requirement : We can meet your promotional business very well.
2. Accept OEM : We can produce any design.
3. Good service: We are available 7 days a week
4. Good quality : We have strict QC system quality reputation in the market
5. Samples will be shipped by DHL , UPS , TNT or FEDEX within 1-3 days .
Application areas
Bid, Auction, Games Room, Lottery Bet and all other profession, such like celebrate in factory and company, estate and other lottery activities.
Customize service
IMYJOY can customize lottery machines base on your requirement, Except the machine outlook and color , we can also customize extra function for you, like Remote control functions, RFID functions etc.
Like below air mixing lotto draw machine, the disc is round, which can put more balls inside. So please tell us what's you need, we will customize the lottery machines as your need.
Package Safe package: wooden box
Payment terms: T/T 30% deposit and 70% balance before delivery/Cash/Western Union
Leading time: 15-20 workdays after receiving deposit (Mass order excluded)
After-sale service: 12 months warranty against shipping date
Color:

Black,White,Orange,Blue,Customzie colors